Health
Journeying Through Time: My Experience with a Past Life Regression Session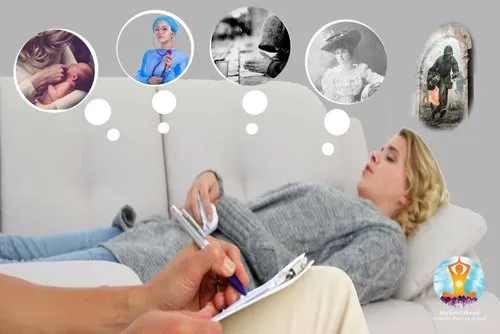 Have you ever wondered about the mysteries of your past lives? Have you ever felt an unexplainable connection to a certain time period or place? If so, then Past Life Regression might be just what you need. This powerful technique allows you to delve into your subconscious mind and uncover memories from previous lifetimes. In this blog post, I will share my personal experience with Past Life Regression and explore how this fascinating process can benefit anyone seeking deeper insight into their soul's journey through time. So buckle up and get ready for a journey through the ages!
What is Past Life Regression?
Past Life Regression is a technique used to access memories and experiences from previous lifetimes. This process involves using hypnosis to guide the individual into a relaxed state, allowing them to tap into their subconscious mind. During this time, they may experience vivid recollections of past events that tie in with recurring dreams or unexplainable feelings.

Past life regression sessions can be done individually or in groups with a trained regression therapist. The therapist will help guide you through each stage of the session and will provide support throughout the process.

It's important to note that Past Life Regression is not intended as a form of therapy but rather as an opportunity for personal exploration and self-discovery. It can be particularly helpful for individuals seeking clarity on patterns or behaviors that seem to have no explanation.

Many people who undergo Past Life Regression report feeling more connected to their spiritual selves and experiencing greater peace of mind following the session. In some cases, it has even helped individuals overcome certain phobias or anxieties by shedding light on past traumas that were previously unknown.

If you're curious about your own past lives, then consider exploring Past Life Regression for yourself!
My Experience with Past Life Regression
I was skeptical when I first heard about past life regression. However, my curiosity got the better of me and I decided to give it a try. The session started with the therapist guiding me into a deep state of relaxation.

During the session, I saw vivid images of what seemed like another lifetime. I found myself in a different place and time, surrounded by unfamiliar people and speaking an unknown language.

At first, it felt surreal but as the images became clearer, emotions surfaced that were strong enough to make me feel like they were mine. It was both fascinating and overwhelming at the same time.

The therapist gently guided me through the experience, allowing me to explore each memory as it came up without any judgment or bias. As we delved deeper into my past life memories, patterns began to emerge that connected with my present-day challenges.

My experience with past life regression was enlightening and transformative. It allowed me to gain a deeper understanding of myself while providing insights that have helped shape some important decisions in my life today.
What I Learned from My Session
During my past life regression session, I learned a lot about myself and the experiences that may have shaped me in this lifetime. One of the most significant things I learned was that some of my fears and anxieties may have been carried over from a past life.

In one particular past life, I experienced a traumatic event that left me with deep-rooted fear and anxiety. This experience helped me understand why certain situations trigger those same feelings in me today.

Additionally, I gained insight into my relationships with people in my current life. Some individuals who played important roles in my past lives appeared again in this lifetime, reinforcing the idea of soul connections.

Perhaps most importantly, though, was the realization that we are all connected through time and space. Our actions and decisions not only impact our present but also ripple through to future lives.

The experience gave me a greater sense of perspective on myself and humanity as a whole. It allowed me to reflect on how far I've come while acknowledging there's still much more to learn about myself and the world around us.
How Past Life Regression Can Benefit You
Past life regression can benefit individuals in a number of ways. Firstly, it can help people to gain insight into their current challenges, by exploring past lives and experiences that may be impacting them in the present. This can lead to greater self-awareness and understanding of patterns or behaviors that may have previously been unclear.

Secondly, past life regression has been said to promote healing on both physical and emotional levels. By exploring previous lifetimes, individuals have reported experiencing relief from chronic pain or illnesses, as well as finding resolution for emotional traumas or conflicts.

Thirdly, past life regression is believed to help people tap into their innate potential and talents. By uncovering hidden strengths or abilities from previous lifetimes, individuals are able to bring these qualities forward into their current lives with renewed confidence.

While the benefits of past life regression may vary depending on the individual's experience and perspective, many have found it to be a valuable tool for personal growth and transformation.
Conclusion
My experience with past life regression was truly eye-opening. Although I went into the session feeling a bit skeptical, I left with a newfound appreciation for the power of our subconscious minds and the impact that our past lives can have on our current one.

While past life regression may not be for everyone, it can offer tremendous benefits to those who are open to exploring their own spiritual journey. Whether you're struggling with an unexplained phobia or simply looking to gain insight into your current struggles, this form of therapy has the potential to unlock deep-seated emotions and provide clarity where there once was confusion.

If you're considering trying out past life regression for yourself, my advice would be to approach it with an open mind and heart. While not every session will yield profound insights or memories from previous lifetimes, each experience is unique and has something valuable to teach us about ourselves.

So go ahead – take the plunge and see where your journey through time takes you!