Digital Marketing
Rahul Malodia: One of the Best Business Coaches & Consultants in India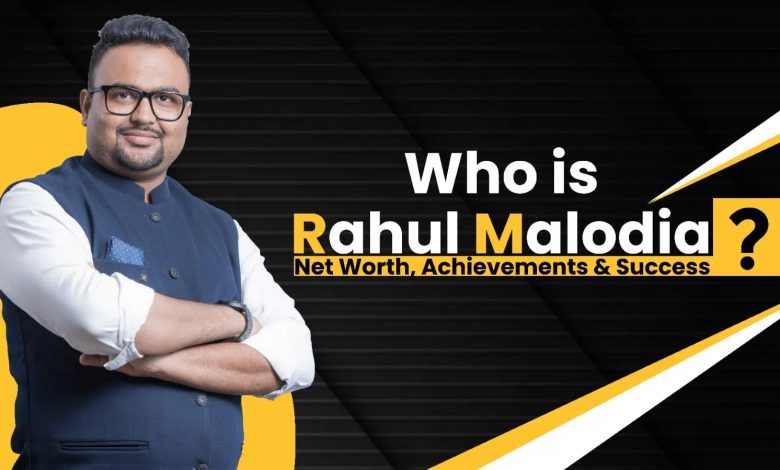 There is constant competition amongst the most influential companies in the business sector. The survival of new enterprises faces many challenges, one of the most significant of which is competition. In addition, having a fledgling online firm makes the competition even more challenging to deal with.
Businesses must remain vigilant to remain competitive in environments with little room for error. Firms that sell to consumers and businesses that sell to other companies are constantly experiencing the heat of intense rivalry.
Entrepreneurs need to play aggressively and punch above their weight to survive in this competitive business environment, which includes both traditional and internet businesses.
This is the only way for them to obtain the much-needed exposure among the clusters of companies constantly being challenged and increasing in number.
But here you need proper guidance and expertise by which you can grow and set an effective workflow in your team. So here business coaches come into the role to grow your business exponentially. Let you know by this article India's one of the top business coaches, Rahul Malodia Sir.
Who is Rahul Malodia?
As a business catalyst, Rahul Malodia's mission is to kickstart a revolutionary movement in India that will assist business owners in developing their identity, growing their operations, and expanding their reach into new worldwide markets.
After obtaining his Bachelor of Commerce degree at the University of Rajasthan in 2012, he became a Chartered Accountant.
He has been employed as a Business Consultant for the past ten years, and during that time, he has been affiliated with some fantastic companies, such as Mahajan & Aibara. These associations have allowed him to gain experience in a professional setting and a corporate culture rich in responsibilities and high-quality work standards.
Rahul Malodia's family is from Rajasthan, and growing up there, he always saw people starting their businesses, no matter how big or tiny they were.
But there was always one thing that bothered him about the company: regardless of how incredible the services or the product might be, the owner could not even take a single hour away from it.
In contrast to many family members, he did not pursue the option of beginning his own business but chose to work instead.
His life was fundamentally altered by his choice to take a stipend position as a chartered accountant and management consultant at a large company in Mumbai. It's not because he was working… but because working in that position showed Rahul Malodia those trade secrets and methods that only the most successful 1 percent of businesses in India put into practice, which are the source of their success.
With Rahul's experience of sitting in the entire board room of that corporation gave him an entirely new perspective on businesses and the management of those businesses.
He was allowed to acquire new skills, put those skills into practice in an operational setting, and design an easy-to-use and effective business automation system for the company.
The most satisfying aspect of this was seeing the company owner walking about with a broad grin, indicating that he was enjoying his newfound happiness and independence.
After two years, when the phase during which Rahul Malodia received a stipend ended, he had amassed a wealth of knowledge that enables a firm to be run successfully and automates it to an entirely new level.
He made a fantastic placement offer that had the potential to pay him a significant amount of money, but he turned it down and launched his own consulting business.
Rahul Sir immediately began putting into practice all the strategies and insights he had gained throughout his career.
In addition, just a few months after launching his own consulting company, he acquired more than 23 customers and fully automated his operations, which ultimately allowed him to attain the kind of independence he had long desired. And he was fortunate enough to enjoy the satisfaction of a smile, but this time it was all his!
Rahul sir wants to see the same look of liberation and contentment on the faces of the business owners in his hometown of Jaipur, where the concepts of management consultancy and business automation were unheard of and thought to be unattainable.
Fast forward to 2022, and Rahul Malodia is now a speaker for JoshTalks. Not only has he automated his own company, but he has also automated more than 500+ small and medium-sized enterprises throughout India.
And because he is on a quest to automate more than 50000+ small and medium-sized businesses in India, his mission is to automate many other businesses with his assistance so that they can experience the smile of freedom.
Services offered by Business Coach Rahul Malodia
Rahul Malodia has expertise in the following:
Business Development Consultant:
In general, it is Rahul's responsibility to assist businesses in determining relevant solutions to business difficulties, and weaknesses and in identifying those flaws and challenges. Because of all of these obligations, his job is essential to the expansion and achievement of any organization.
Tax and Finance Business Consultant:
In addition to planning his clients' financial futures, Rahul Malodia develops tax plans for his customers. He does in-depth computations to determine a client's tax due, and ensures that tax returns are filed by the appropriate deadline.
Business Automation:
Rahul Malodia prepares the company for a more adaptable approach by ensuring that it satisfies the criteria for performance agility, operational excellence, adoption of a competitive strategy, compliance with updates, product relevance, and marketing strategy.
Employee Management:
In collaboration with the organization's leadership, Rahul analyzes the business, identifies problems, collects information, and develops solutions. He works in groups somewhat regularly, most of which are employed by consulting firms instead of paid by the company whose operations they are evaluating.
Finance Management:
In order to assist clients in accomplishing their financial goals, Rahul Malodia offers guidance on various topics, including taxes, retirement planning, investment decisions, and insurance policies.
Sale Management:
Rahul sir can help you assists your company in establishing and achieving sales goals, conducting data analysis, coordinating training programs, allocating territory, and performing various other sales-specific tasks that can contribute to a successful strategy.
Mindset Management:
The problematic strategic dilemmas and problems that client businesses encounter are the focus of Rahul's work, and he works with complex business problems to solve them. Gathering information, analyzing that information, synthesizing insights, and conveying solutions are all his day-to-day responsibilities.
Why do you need a Business Consultant like Rahul Malodia?
As a result of the alarming rapidity with which new startups are appearing on the thriving Indian entrepreneurial scene, an increasing number of business consultants are now offering services for smaller enterprises that are priced affordably, which means that cost may not always be an issue.
Entrepreneurs in India who have an idea for a business but lack the knowledge, resources, or experience to drive their concept forward might benefit tremendously from the services provided by business consultants for startups in India. If a new company hires business consultants for the right reasons, those consultants can bring in significant benefits.
1. Objectivity in the Feedback:
The majority of new businesses rely on the current workforce, experience, knowledge, and skill of the company, and they ignore the changes that are happening in the outside world.
For this reason, it can be of tremendous benefit to companies to receive honest and fair input; this is precisely where the job of a startup consultant becomes essential.
Startup consultants can offer an invaluable outside perspective on the operations and fundamental model of the startup they are working with. Feedback will be provided to the startup company not only on the idea that drives your company but also on how it will be executed, how it will be organized, and other crucial issues.
2. Management Advice:
Right from the initial idea and vision through the following phases and steps of the startup business, the blueprint of your business is just excelling sheets, word documents, and PowerPoint presentations on your consultant's computer.
This advice applies right from the beginning of the business startup process.
The knowledge and recommendations provided by startup consultants can be implemented in a wide variety of facets of your company, and these consultants offer a wide range of consulting services.
Most of those who operate startups are in their 20s or 30s, have an MBA from one of the country's best business schools, and consciously decided to pursue their own interests rather than working for someone else.
Because of their apparent disadvantages, such as their youth and lack of experience, the people running these businesses can therefore be expected to lack the necessary managerial experience or knowledge to steer the venture in the correct direction.
These disadvantages include having little to no experience and being relatively young. A young and relatively inexperienced CEO who is just learning to steer his business through the business executive world may benefit from the management advice a startup consultant provides.
This advice can be gleaned from the consultant's expertise in these areas. Working with an experienced business coach who has been through the process numerous times provides the client with information, and the client receives clarity from working with the professional.
3. Developing a Road Map Strategic:
Planning is one of the essential services that startup consultants offer their clientele. Clients might benefit from startup consultants' expertise in analysis, analytics, and strategy. Strategizing is critical to any company's success but vital for new businesses. Customers collaborate with seasoned advisers to design crucial next steps for their new businesses.
Because most companies do not have a definite road map or even goals to start things off, this continues to be one of the most significant obstacles for a startup just getting started. Your business will be provided with a road map and a strategy plan by a startup consultant when they have been employed.
4. Expertise:
A startup consultant brings in the necessary information and competence for a firm, which may go beyond the existing skill set of the business or even beyond the expertise of the business's existing employees. A startup consultant is often regarded as an authority in their area of expertise, and they possess a significant amount of training and extensive knowledge regarding the most recent strategies and procedures for advancing a company.
Business growth is comprised of several tasks and processes that, in general, aim at developing and implementing growth prospects both within and between firms. The only person who can assist you with this endeavor is a competent startup consultant.
5. Market Study:
Your startup consultant will conduct in-depth research on the market and the market sector in which you intend to expand your company. It is well acknowledged that conducting market research is one of the most important aspects of making strategic business decisions.
The information obtained through market research may include but is not limited to data about your clients' requirements, the capabilities of your competitors, and trends within the industry. They are aware of changes and developments in various market sectors and will advise you of any suitable opportunities they come across.
Professional startup consultants are known for their continuous analysis of market trends and dynamics, which means they are alert to changes and developments in different market sectors.
The process of providing business executives with competent, responsible third-party advice, expertise, and support to improve the business's performance is known as business consultancy. Through an in-depth investigation of your targeted markets, competitors with comparable business models, and the marketing strategies employed by those competitors, a business consultant can assist your company in growing its presence, reputation, and revenue. This investigation will deliver a condensed report that will be extremely useful to your eCommerce business.
Why you should choose Rahul Malodia as your Business Consultant
As a business catalyst, Rahul Malodia's objective is to launch a revolutionary movement in India that will assist companies in developing their brand, growing their operations, and breaking into new worldwide markets.
After spending some time in the boardroom of a vast organization, Rahul Malodia gained a new admiration for corporations and the management of those corporations. He holds the secret to your financial success in the future. A business can benefit from the expertise and objective perspective consultants provide. Business Coach Rahul Malodia specializes in various fields and industries, such as strategy and management, operations, human resources, finances, funding opportunities, information technology, sales, and marketing. His Consultanting can provide a path to the exponential growth of your business.