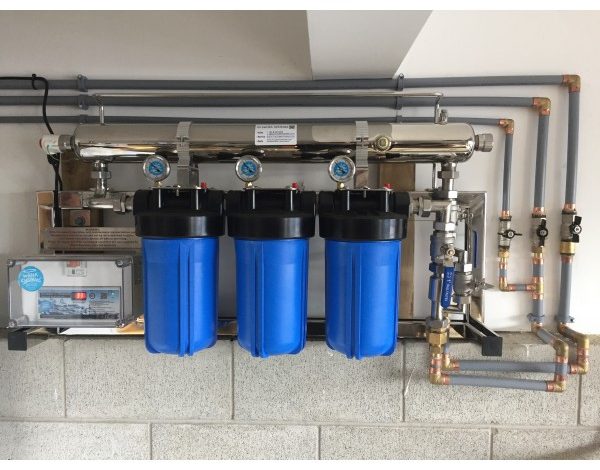 If you live in an area where the water coming out of your tap might be suspect or even downright unsafe, you've probably pondered whole house water filtration. Unlike point-of-use systems, a whole-home water filtration system is a one-shot comprehensive solution to ensuring the water in your home is pure, clean and safe, no matter which tap it comes out of.
But how much do whole-house water filtration systems cost? This is often the first question homeowners have, and they're usually prepared to hear the worst. The reality is, however, that whole-home filtration systems aren't as expensive as you might think. In fact, there's actually a decent price range, depending on your situation.
Here's a closer look at the average costs of whole-home filtration systems and what homeowners can expect to pay based on the system they choose and installation costs.
First, a disclaimer about prices
Before we look at how much a whole-house water filtration system might reasonably cost you, it's important to consider context. Many, many different variables factor into your unique situation, which means the cost of bringing whole-home filtration into your house might differ from someone else's costs. Some of the biggest factors include:
The type of filtration system you choose (make, model, filtration mode)
The rates of the plumber or service specialist installing your system (labor)
Where you're located in the United States (state, region, urban vs. rural)
Size of your home and source of your potable water (well vs. municipal)
The discrepancies between these costs are why it's so important to get a full and complete quote from multiple service providers. You'll be surprised at how much rates can vary. Look to find an average among the quotes you're given and be aware that you'll likely pay more for a job that's done thoroughly and completely.
The cost of a whole-house water filtration system
The first and biggest factor in the cost of a whole-house water filtration system installation is the system itself. There are numerous makes, models and manufacturers out there to choose from, each with different features and functions that equate to different price points.
The type of system you need usually depends on the level of water contamination you face. For example, a home with relatively clean well water might need a basic filtration system that comes at a lower price point, while someone in an area with highly contaminated municipal water might need a more comprehensive system. Prepare to pay for a system that's reflective of the level of treatment your home needs.
Looking at only the cost of a filtration system, expect to pay between $1,000 and $2,500 on average. Keep in mind that this is only the average cost for a point-of-entry (POE) system, not installation or upkeep.
The cost of installation services
Once you've got the right system picked out, it's important to factor in the cost of getting it up and running. You'll need to find a plumber with experience installing water filtration systems and, ideally, familiarity with the brand and model you've chosen.
This is where pricing varies dramatically. As is the case with most things, plan to pay more for specialists and less for generalists. It's often worth it to enlist the help of a plumbing professional with specific expertise installing the type of whole-house filtration system you've chosen. However, simpler systems may be cheaper to install if you can find a plumbing generalist capable of tackling them. Costs will also vary depending on the complexity of the install within your home and the general rates charged by the company.
All in all, expect to pay an additional $500-$1,200 to have your system thoroughly installed by a professional who knows what they're doing. While you might be tempted to try and tackle a POE water filtration installation yourself, this is a job that absolutely needs a professional touch. There's simply no substitute for an experienced installation—this isn't the place to try and cut costs!
The cost of upkeep for a whole-house filtration system
Like any water system, the cost of a whole-house water filtration installation doesn't end once the work is done—there are also upkeep and maintenance costs to consider. That is, the cost of keeping the system's filtering capabilities intact. Again, this depends on the type of system you choose to install.
The good news is that POE water systems have a tremendous return on investment, and the cost of upkeep for a well-installed system is nominal each year. Most homeowners can expect to pay anywhere between $50 to $300 annually for filter media and basic upkeep. It's a small price to pay for the peace of mind that comes with each drop of water flowing through your home's taps!
It's also important to remember that the older your system gets, the more maintenance it'll need. As you factor in the cost of ownership each year, make sure to account for service from a professional who can help extend its lifespan and ensure its continued performance.
The cost of pure water is always worth it
Making the decision to invest in a whole-house water filtration system isn't one you should take lightly. Take the time to do your research and select a system that's right for your home: one that specifically filters out the unique contaminants that may be present in your water. On top of that, always make sure you're working with a professional who can ensure the safe and complete installation of a system that's ready to work efficiently.
Wondering where to start the search for your whole-home water filtration system? Aquaspace® offers a complete range of whole-house filtration systems with different capabilities—all at different price points. There's a POE model for every home and every water contaminant concern, so you can have peace of mind in the water you're drinking, cooking with, bathing or cleaning with.
How much do whole-house water filtration systems cost? The cumulative answer ranges between $1,500 and $3,700, with annual upkeep costs of between $50 and $300. Whatever you end up paying, it's a small price for confidence in your home's water quality.