Tech
New technologies and the revolution in the tourism sector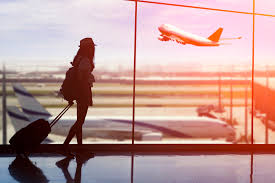 Technological advances have changed the way we travel allowing for an even more interactive and exciting experience. Want to know what else they have in store for us in the not too distant future?
Today there is no doubt that technology and travel are a perfect combination. This union plays a decisive role in influencing the way we travel. From the choice of destination to the evaluation of what we can do once we arrive on vacation, and even what we can do once we return. 
It's so important that, according to a Google Travel study, 74% of travelers plan their travels on the Internet, while only 13% continue to turn to travel agencies.
Millennials have also played a key role in this transformation. They love to travel and are fascinated by new technologies. These two combined passions have given birth to a new context in which social media, apps, blogs and so on have a huge specific weight in organizing a trip. At the same time, the tourism sector, gradually becoming more and more aware of this trend, has begun to adapt the business model and the type of offers to attract this specific target.
Who hasn't gone somewhere just because Ryanair offered return tickets for 30 euros?
If we want to take a trip, let's go online, look for the cheapest destinations to reach and, voila, off we go! This scenario was unthinkable until a few years ago.
Trends and news in the travel industry
As we already argued in our report on new tourism trends, the sector is in the midst of a real metamorphosis. There are many factors involved, but the main role is played by the new technological solutions that are appearing on the market.
Salvador Anton Clavé, director of Eurecat's Tourism and Innovation Department, said during the TurisTIC Forum in Barcelona that "change goes beyond the improvement of procedures or the simple tourist experience: it implies a real transformation of the entire sector. Tourist. " We are witnessing the improvement of procedures, public service, customer relations, and the creation of new business models. All this translates into benefits for travelers, which can simplify, and often enrich, the entire organization phase.
Booking.com Vice President and Chief Marketing Officer Arjan Dijk recently expressed similar thoughts, stating that "in the next decade, we will see how the tourism industry will be able to respond to the needs of a more sustainable type of traveler, and with greater technological knowledge. To do this, it will have to develop products, functions and services that make it easier for everyone to discover the world. "
But let's see together some of the technological advances that are currently making their mark in the sector.
The seven most important technological solutions in the tourism sector
1. Mobile technology
The mobile phone is undoubtedly the protagonist of the new way of traveling.
It has become our tour guide, our travel agency, the best restaurant locator, the "map" to find your way around and much more.
He is at our side throughout the purchase process. According to TripAdvisor, in fact, 45% of users use their smartphone for everything related to holidays.
This is why it is necessary to adapt the services and communications we offer to these devices.
For example, KLM has already created an information service for passengers using Facebook Messenger.
This system, once a reservation has been made, sends the user information relating to their ticket via Facebook Messenger. Further, the boarding pass and real-time updates on the status of the flight purchased. This way the user has all the necessary information at their fingertips using an app they already had and avoiding having to download additional apps.
2. Augmented reality
Augmented reality (AR) or virtual reality (VR) have also entered the world of travel, thanks to all the possibilities they can offer. More and more companies are using it to show users the experience they are going to have, from the cabin of a cruise ship to transporting them, for a few seconds, to the Great Wall of China.
Today it is possible to "teleport" to the most remote corners of the planet without getting off the couch. This is what you can achieve using Everest's EVEREST VR application, which allows you to see the roof of the world without having to climb to the top. Or, if you prefer, you can kayak across the Grand Canyon enjoying the sights and sounds.
3. Internet of Things (IoT)
The Internet of Things (IoT) promises to bring truly significant improvements to the tourism industry. For instance? Integrated sensors connected to the Internet inside cars, suitcases, buildings and much more.
In fact, the Spanish ITH (Instituto Tecnológico Hotelero) has stated that the Internet of Things "will be the main transformative element in personalizing the customer experience in the coming years".
Some Virgin Hotel properties offer their customers an app that allows them to interact with the room's thermostat or control the television.
There are also built-in devices that allow users to use their mobile phones to track their suitcase while preventing it from being lost or stolen.
4. Virtual assistants
We all know Siri and Alexa, the virtual assistants from Apple and Amazon who cater to all our needs.
How is the weather today in Milan? Turn on the radio? Open my email? And so much more.
This type of "help" is starting to be enlisted in hotels, thanks to the arrival of virtual assistants specially designed for this environment .
IBM recently launched Watson Assistant, an AI-based virtual assistant that creates an interactive and personalized experience for consumers.
This is the open technology that can be used and adapted to the needs of individual customers : simply, the name used will no longer be Watson, for example, but the one the hotel will choose.
5. Big Data
There has been a lot of talk about Big Data, but all the opportunities it can offer to the travel sector have not yet been shown. However, many operators are already using it.
The hotel chain Meliá, for example, uses the information of its guests to understand which is the best target for its marketing campaigns. Like? They examine the database to study the amount spent, the reason for the trip, the country of origin, etc. Further by cross-checking this information with public data from government sources, they manage to develop the most appropriate customer profile. In this way, they will be able to better segment their campaigns, increasing their effectiveness and optimizing the investment made.
6. Blockchain
Blockchain is a technology poised to transform the world as we know it. Although it is mainly associated with the finance world, it seems that it can also have an impact on the travel world.
Although it has not yet been widely tested, it could be used to identify passengers at the airport, ensure transparency in the opinions given by tourists or for easy and secure payments.
7. 5G
Travel technology discovers new potential, with the help of 5G networks. They will ensure much faster uploads and downloads, greater coverage, and more stable connections. In addition to downloading content 20 times faster than before, 5G technology will allow us to do things that were impossible with 4G. To give two examples, the connection between smart devices will be much more effective, and we can really begin to take advantage of the Internet of Things (IoT).
Immersive tourism, in which technology transforms the traveler into the protagonist of the experience, will become reality. In addition, augmented reality (AR) or 360 ° videos will be more widespread and accessible.
The BBC conducted an experimental test involving the use of 5G and an AR app at the Roman Baths in Bath, England: users could travel back in time to relive the reconstructions of the place at various key moments in history. This video shows us the pilot test, which made 80% of participants say that they would much more willingly visit a museum if it offered such experiences:
My tech trip to Europe
I confess that I belong to the type of traveler who appreciates the comfort derived from mobile technology , especially in so-called "non-stop travel". That's why I want to share my experience on how technology influenced my last trip to Budapest, Vienna and Krakow.
Planning: online reservations, what a convenience!
When planning my trip, I made all hotel reservations online. I had been doing it for years, but this time I was surprised by special news. I was able to download a free guide on every city. Also, I would visit and also managed to get my adventure bag from https://needtounplug.com/
I always like to search for additional information about the cities I'm going to visit, and I recognize that this very " inbound " trick can push people to book their next trip using that web portal again.
All the reservations I made, both for flights and for hotels, were automatically saved in my inbox, avoiding me having to print everything and therefore without having to worry about the risk of losing something.
On the road: my mobile, the best co-driver in the world!
Traveling with a smartphone and active data (thanks to the end of roaming in Europe) was a revelation. He sent me alerts regarding the routes and the reservations made by me. He was there to show me the way when I got lost (more often than I could imagine). To keep me company on long journeys. Further to help me discover particular details about the places I was visiting.
Post travel: sharing is living!
When I come back from a trip, I always like to retrace what I have done. From hotels, to restaurants, to activities. Also, I like to share my experience with others and help those who want to make the same journey. I'm a fan of the Internet philosophy: to collaborate and share knowledge so that everyone can benefit from it. 
I did everything from the comfort of my phone and sofa at home.
The travel industry is one where consumer interaction is becoming more important. Technological advances are allowing companies to get closer to their customers and get to know them better.
Steve Jobs said: "Technology is nothing, the important thing is that you trust people, that they are fundamentally good and intelligent, and that you give them the right tools: they will do wonderful things."
Also Read: How to Make Your Website Mobile-Friendly