Tech
How to Make Your Website Mobile-Friendly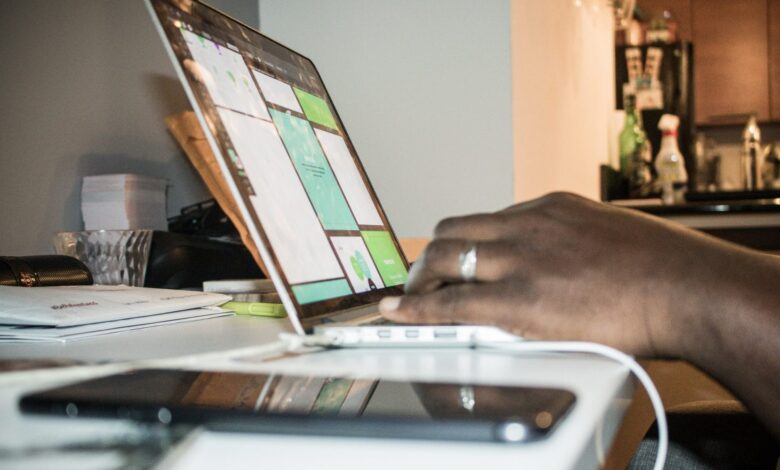 Websites are the indispensable medium of communicating with potential customers these days. The last decade has seen a significant shift in users from desktop to mobile. Moreover, the website plays an essential role in building brand reputation and spreading awareness of your brand at the top of the funnel.
Smartphones, tablets, and iPhones are coming with significant features due to advancements in technology. As mobiles are pretty handy and easy to use; so, users have become accustomed to using them for many purposes, from reading web pages to shopping online.
According to Statista, mobile users account for 90 percent of the global population, and 55 percent of the web traffic comes from mobile-only. Therefore, Google also announced its mobile-first indexing in 2020.
The user interface must be mobile-friendly to grab the attention of viewers instantly. A fantastic user experience will bring clients to your site again and again. 
Thus, designers and developers must scrutinize to optimize their websites critically on mobile devices. In addition, it helps in ranking your site high in SERPs and conversion rates.
What is a Mobile-friendly Website?
Mobile-friendly is the adaptive site that can fit its main functions and text on any phone. It is the mini-version of the original website.
The critical attributes of the mobile-friendly website:
Web pages are easy to scroll without much need for zooming or pinching the content.

There is enough white space to enhance the contrast so that viewers can understand the content at a glance.

Text font and size are sharp, simple, and effortless to read.

Images and Videos are displayed well for higher interactivity with the customer.

Loading time is less than four seconds. 

Keep website design simple and highlight the call to action (CTA).
What are the Essential Steps to Make Your Website Mobile-Friendly?
# Step 1: Check your website for mobile-friendliness
You can start by checking how your website performs on smartphones. Then, use the accurate stats to know where your website is standing right now. After then, it will become simpler to analyze different parameters and their improvement. 
Use tools such as Google Analytics, Website Auditor, or Sitechecker.

Choose the phone category, either tablet or smartphone. 

Opt for a mobile-friendly test.
If your website passes the mobile-friendly test, then it is suitable for use on the phone. Otherwise, the software will show the parameters in which your website lag, and you may rectify these loopholes.
#Step 2: Make a strategy for Mobile SEO
Mobile SEO is the fundamental requirement for ranking your site high on Google. You can do mobile-based optimization by:
Get separate URL for mobile, i.e., m.websitename.com.

You may choose dynamic serving. It will display the same URL across all platforms, but its server will be different.
In case, the content is the same for desktop and mobile, then the server may show the desktop version on mobile. Thereby badly affecting the user experience.
The most crucial configuration amongst all is the responsive design. In this, the page layout and text size change according to the device. 
Even Google advocates responsive design to get rid of complications involved in the points mentioned above.
Have you looked out for the core web vitals of your website? SEO and Core web vitals relate to each other. So, loading time matters the most in core web vitals. Additionally, you may check your website speed by Google tool. 
#Step 3: Focus on Website Design
Are you familiar with the coding that adapts the website according to the device? HTML5 code adjusts the website according to the platform. For example, it changes the screen resolution and screen size as relevant for the device and browser.
Essential tips for designing the website for mobile:
Before adding any new software, check its compatibility with mobile. For instance, many mobile platforms don't support Flash. Moreover, remove any pop-ups or ads that block the content.

You must not block CSS files or Javascript otherwise, Google robots can't crawl on your web pages. So, it will badly influence your SEO page rank.

Avoid the use of lazy loading of your main content in the coding. Instead, make sure that it gets loaded in the browser within the viewport.

Enable Accelerated Mobile Pages which improves loading time of the website on mobile. 53% of the users leave the site due to slow loading time. 
AMP works on the principle of compressing the content of the website eight times the usual data. 
Tabs must be large enough to make it easier for users to access them on the mobile screens. In case of overcrowded buttons at the top, shift a few to the bottom of the screen.
Optimizing your content will make your website design look more appealing.
#Step 4:Optimize your content
Perform deep analysis about the type of content that works wonders for mobile. You can take help from SEO experts here. We will talk about both written text and multimedia used on web pages.
The text must be easy to read, simple, and concise. Shorter sentences always act as the plus point due to space shortage mobiles. 

Simplify the Call to Action (CTA) part of your web pages. It will lead to higher conversions and generate more revenue.

Do you know that many users leave the website when they encounter a giant piece of data or large paragraphs? Therefore, fewer words in a line and shorter paragraphs make your text more engaging and impactful.

Some websites use HD images or videos on their landing page. Thus, the page takes a lot to get loaded, reducing dwell time and affecting Google rankings. 
Make sure to optimize the number and size of multimedia for better user engagement on the phone. 
The mobile application makes a compelling demonstration of your optimized content. 
#Step 5: Develop a mobile application 
Mobile application assists websites by improving the brand image and boosting sales. A separate application works well if you have a large business model and want to cater to more users.
A website increases the familiarity of your brand on search engines, while a mobile application improves the retention rate. In addition, a mobile app comes with a better user interface which adds to the credibility of your website.
What is so appealing about the application? First, it helps in better presentation of your product and services. Moreover, you can serve your target audience with well-supportive customer service.
It is the best combination of mobile app and website as website work on web servers, while app saves user data locally. It is productive in providing personalized services to the customers.
The investment in a mobile app is only worth it when you have worked entirely on your website, and you need to increase your client reach.
Conclusion
A mobile-friendly website is vital for any business, from SME to large enterprises, when more than fifty percent of the global population uses mobile.
Firstly, Check for mobile-friendliness for your website. 
Secondly, Work on mobile SEO and mobile-friendly content.
Thirdly, Make your web design for the best user experience.
Last but not least, If you need the expand your business outreach, develop a mobile app.
These steps will increase organic traffic on your site and improve search ranking. Thus, it will bring more revenue to your business