Fashion
Why Wedding Dress Preservation Box is Safe for Your Wedding Gown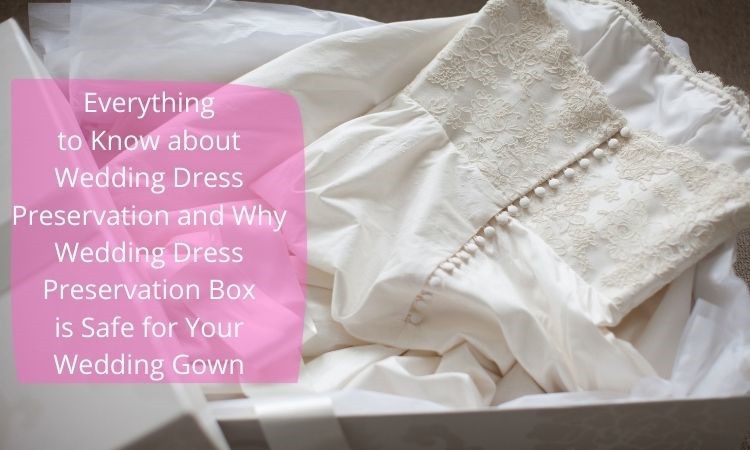 Marriage is the beginning of your family and it is the biggest day of your life. This is such a day that you remember till the end of your life. From your wedding dance to the smallest details, you will definitely remember each moment. A wedding dress is also one of the most memorable keepsakes from your most amazing day. It puts a smile on your face even years later and bring back powerful emotions from your wonderful day. After all, your wedding gown embodies the new beginning of your life and it made you look and feel like a princess. So keeping your precious dress is probably important for you. Today we can help you choose the best way of keeping your wedding dress. 
No matter you want to keep your dress in your family as a heirloom in order to be passed down to the next generation, or you want your daughter wear it or you just plan to sell it one day to another bride, you need to store your wedding gown properly. Now let's dig into some details and understand the whole process of wedding dress preservation!
What is "Wedding Dress Preservation"?
In simple words, the process of wedding dress preservation is when you dress is professionally cleaned and preserved after it is worn in your ceremony. Women opt for this preservation solution mainly for having their dress preserved in order to give the next generation to enjoy our precious dress. Whatever reason it is, thanks to wedding dress preservation, you will easily keep your memories bright as well as help next generations wear your wedding gown and feel the same emotions. 
In fact, the process of having your wedding dress preserved is divided into various steps that detect all visible and invisible stains and then clean them perfectly. Due to multiple "preservation" steps and a storage chest, you will easily protect your dress from yellowing and getting dirty. People almost always have chosen dangerous dry cleaning agents, such as PERC, and outdated dry cleaning equipment but today there are more effective solutions than these old methods. Modern advancements allow professional cleaners use excellent equipment and techniques to remove all organic and inorganic staining from your wedding dress on a microscopic level.
How Does a Wedding Gown Preservation Box Functions?
ü A quality wedding gown preservation box can keep your dress safe from sprays, dust, and dander
ü It can keep the form of your wedding gown to prevent permanent fabric creases
ü It also has a viewing window, so your wedding gown will be displayed to your beloved ones
ü Your dress will be protected from UV-light which is very dangerous and can fade the fabric of your dress
Why Wedding Gown Preservation is The Safest Method?
We can proudly say that sending your wedding dress in to be preserved is the safest solution. Having your wedding dress professionally cleaned and preserved will properly eliminate all types of blemishes that accumulate from your wedding day activities.However, you need to choose a professional team so that you can cut out any middle company that may mishandle or misplace your dress. That's where The Wedding Dress Specialists come to help you. Here, you will meet reliable and experienced Wedding Gown Preservation Specialists and cleaners who are happy to give you high-quality services based on your special requirements. You can easily book your Wedding Gown Preservation Australia and dry cleaning by just visiting the website.The Wedding Gown Preservation Specialists offer a revolutionary preservation technique that is second to none. Each specialist of this company is committed to serving you in the best possible way. Today, The Wedding Dress Specialists is one of the most trustworthy companies and they are leaders on delicate fabric handling and care. Being in this business for more than 35 years, this team ensures to offer you a tailored Wedding Gown Preservation Australia that will exceed your expectations. Rest assured that you are dealing with a reliable company where the Wedding Gown Preservation Specialists guarantee museum quality results.
Types of Wedding Dress Storage Boxes
The market is full of various wedding dress storage boxes, so when you decide to choose one of them you will have a myriad of options at your disposal. Let's see what type of Wedding Dress Preservation Box can be suitable for your needs. 
Stand-alone Wedding Dress Preservation Box

 – This is a simple acid-free box that you can buy and keep your wedding dress from yellowing. If you are looking to plan opt for DIY approach to clean your wedding gown, a simple box may be the best option for you. Just make sure your dress is crystal clean before putting it into the box. 

Wedding Dress Preservation Box

 

with Archival Packaging

 – This product is an acid free box that includes all the necessary packaging to keep you gown crease free, wrinkle free, and keep the shape of you wedding gown. 

Full Wedding Gown Cleaning and Preservation with Display Chest

 – In fact, this is an excellent option that will give you peace of mind. Always hire a professional team like The Wedding Dress Specialists as they will perfectly clean and preserve your wedding gown using excellent methods. As a result, your dress will look like new. This option also includes a preservation window so you can show your gown to your friends without running it. 
Read More: Basic Steps for Fashion Designer Course for freshers
Now that you know all of the details of wedding gown preservation, never hesitate to clean your precious dress and keep it in a suitable preservation box. Having your wedding dress professionally treated will certainly eliminate yellowing and help keep your wedding dress looking as beautiful and shining as the day you first fell in love with it at the bridal store.