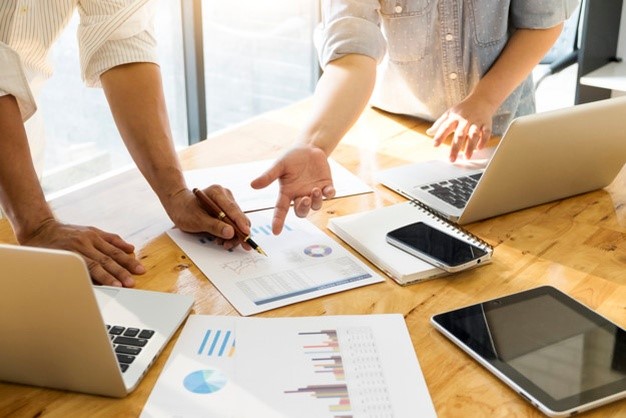 Small businesses have a lot of accounting challenges. Keeping track of finances, making payroll, and balancing the checkbook can be exhausting and time-consuming for even the most organized business owners. Fortunately, several accounting solutions are available to help small businesses manage their finances more efficiently. The latest and best solutions are automated accounting software, especially cloud-based accounting services. Cloud-based accounting services are one of the best ways to improve your small business's financial management system and reduce the time it takes to balance your checkbook. You can use these services in-house or with the help of an outsourcing services provider. These services are much more affordable if you outsource your accounting needs instead of directly investing in them and hiring an in-house team to manage the accounting software. Read on to learn more about how cloud accounting services can help your small business thrive with less stress and cost.
What is cloud-based accounting?
Cloud-based accounting services operate similarly to digital services such as email and social media, with most accounting tasks taking place remotely. Instead of keeping records on-site, which is much more expensive and time-consuming, accounting professionals can operate more efficiently thanks to the internet. How exactly is this possible? Shared services between various offices, powerful and large data centers, and a team of professional bookkeepers and auditors means that you can get your finances in order while working from wherever you are. The accounting system that a cloud-based accounting service offers is completely online. This means the system is completely accessible from any computer with an internet connection. Once the accounting system is online, accountants can log into the system and start making financial decisions. These decisions are based upon the data recorded into the system, which can either be from a spreadsheet or a database. If you are looking for a cloud-based accounting service, you should keep in mind that this system is extremely flexible and can be customized to fit the specific needs of your business.
Key benefits of a cloud-based accounting service
Accounting automation has been one of the best things for businesses, making financial management much easier and faster. Taking a step further, businesses are now moving from traditional accounting software to cloud-based accounting solutions. Cloud accounting services make your business's financial data accessible from anywhere at any time. They also ensure data safety and are cheaper for businesses in the long run. These accounting services are available online, with the help of the internet, allowing you to view and update your financial data in real time. Let us look at some of the key benefits of cloud-based accounting services below: 
Flexible –

The flexibility of a cloud-based accounting service gives your bookkeepers and auditors access to a wide range of tools that they can use to keep your books and records organized. It allows them to make real-time changes and updates in the books of accounts. This allows them to make more accurate decisions and spend less time organizing records. 

Operational risk –

The most common benefits of a cloud-based accounting service are cost savings and operational risk benefits. Both make it possible for accounting services to operate remotely and are key to their success. Cloud accounting solutions are more cost-effective compared to traditional accounting software. You can outsource your

accounting services

to a third party that uses a cloud-based accounting solution to manage your finances. 

Easy integration –

Businesses sometimes use specific accounting software for business functions like payroll, accounts receivable, accounts payable, etc. But all the software data need to be integrated while preparing the final statements and reports. Cloud-based accounting solutions make it easier to integrate different accounting software into the main system to help determine the final financial position of the business. 

Data safety-

The data entered in the cloud-based accounting services are stored on one server. These services use the best and most relevant safety protocols to secure your financial data. 
Cloud-based accounting services are not specific to any industry, but some accounting services are well-suited for small businesses. This is because cloud-based accounting services are much more flexible than traditional on-premise accounting systems. This allows service providers to provide a more customized approach to accounting that is much more appealing to small businesses. FreshBooks, Zoho Books, QuickBooks, Xero, Sage 50, etc., are some of the top cloud-based accounting services that benefit small businesses.
Set up your new accounting service
Once you have found an accounting service that works for your needs, the next step is to set up your new accounting service. You may have to change your business's banking account to ensure that your new provider can process payments. You may also have to update your existing contracts with vendors by adding the new account information. This process is time-consuming but important for a smooth transition in your accounting and bookkeeping process. You don't want to start your new accounting service off on the wrong foot by forgetting to update your contracts and banking information. There are also a few things that you should keep in mind when setting up your new accounting service. One of the most important factors is choosing a service that has a good reputation. This will make it easier to trust the provider and avoid any issues that may arise when switching over to a new service.
Final Words
Your business's finances are a key part of your success. Therefore, managing your accounting and bookkeeping carefully and accurately is critical for the efficient functioning of your business. The right type of accounting can help you keep track of expenses and ensure that you fully comply with financial regulations. Finding the right type of accounting service doesn't have to be overwhelming. You can start by determining what benefits you, want from your new service, and how much money you want to spend. From there, you can find the best cloud-based accounting services for your needs.