LifeStyle
Maximize Your Storage Space in Style with Freestanding Bathroom Furniture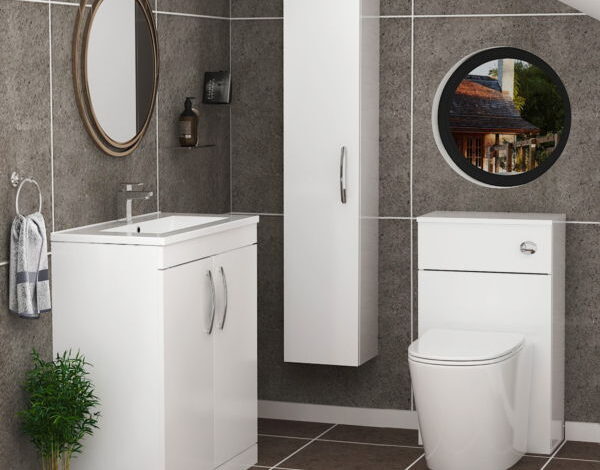 The freestanding bathroom furniture is a great addition to your bathroom due to the various benefits it offers. The modern bathrooms are incomplete without adequate storage space. It is because the type of items we use there has increased so the need for storing them. If we don't have proper storage, our washroom will become cluttered and look bad. Therefore, it is important to add storage fixtures as per your needs and the size of the washroom. However, there are many types of vanities available in the market. It is not easy to choose the right one. Among them, you will have to make the first choice between floor-standing style vanities and another one is hung wall style.
In this article, we are discussing floor-standing furniture.
What is Freestanding Furniture
It is a type of storage fixtures that directly stands on the floor without any support. That means it is an independent unit that you can keep anywhere in the bathroom. There are important factors like storage requirements and aesthetics. That can play a detrimental role in whether to decide about installing this type of storage unit. Since each type of storage cabinet has its own advantages and disadvantages, it is important that you make a choice with careful consideration.
What To Expect from Freestanding Bath Furniture?
First, we are discussing the pros of this type of Freestanding Bathroom Furniture.
Looks Similar to Furniture. It is a type of storage unit that looks exactly the same as the standard fixtures that we have in our drawings or bedrooms. It does not have any unusual looks that you may see in other types of storage units. Even in many cases, you can use these vanities and cabinets in another place in your house when you plan to replace them with a new one.
Great For Creating Luxurious Look. If you have a bigger bath area and want to create a classic and timeless feel, then it can be a great option for you. However, you may have to choose a designer's vanities for this purpose.
The flexibility of Placement. Generally, there are two types of storage furniture, fitted and non-fitted, in this category. You can replace or reposition freestanding vanities as per your requirements. Such flexibility of positioning is only available with this type of vanities.
More spacious storage capacity. If you compare the storage capacity of these units with the other style of cabinets, then you will realize that the floor is standing one offers more storage capacity than its counterparts. So, you will have more space for everyday essentials with it.
Cost Savings. It is comparatively less costly to the wall-hung vanities. It is because this type of cabinet provides more storage capacity at a lower price. In addition to that, there are no installation or fitting costs involved. Most of the storage furniture from the fitting or wall mounted category has a higher unit price as well that should also include plumbing or fitting costs.
Countertop Options Available. While the countertop sink option is available in all types of bathroom cabinet, the cost is usually not charged separately with Freestanding Bathroom Furniture. So, unlike wall hung style, you can save a considerable among of money with it as well. It is because such a sink is usually fixed inside the top of the vanity unit.
Decoration Customization. Such furniture offers more flexibility to work around with the type of look you want to create. In some cases, when no plumbing is involved, you can change or reposition it as per your requirements or changed the plan to make it look entirely different.
More Options in size, shape, and style. With the freestanding storage, your countless possibilities of shapes and sizes. Each manufacturer designs its own stylish-looking units to attract customers. This includes both contemporary and classic or timeless designs. Such units are available in various sizes, so whatever the size of your space may be, you can find the one that fits into your place.
Is there any drawback of Furniture?
Like anything else, freestanding furniture has some drawbacks too. The first one is that since it sits on the floor, it covers comparatively more space on the ground. That means your washroom may look more covered and congested as compared to a wall-hung vanity unit. While the floor is not empty like its counterpart, you will have to try to keep the floor clean. Furthermore, You will have to take care of washroom dimensions, as the space around such unit may go unused as compared to a hung wall unit that becomes a more space-efficient solution.
Looking for Freestanding Bathroom Furniture?
The freestanding bathroom furniture is an excellent choice in terms of both aesthetics and practicality. Whether you have a small bathroom or large space, there are styles and sizes available that fit well into space. While comparatively offering more storage space, you have a lot of possibilities to create the type of look you want in the washroom. At Royal Bathrooms UK, we have all types of fittings and fixtures available at competitive prices. We all hate being in lockdown due to Coronavirus. The only possibility to avoid it is by getting your covid-19 vaccination shots on time.