Health
Unify your Business and Clinical Side with AdvancedMD EHR!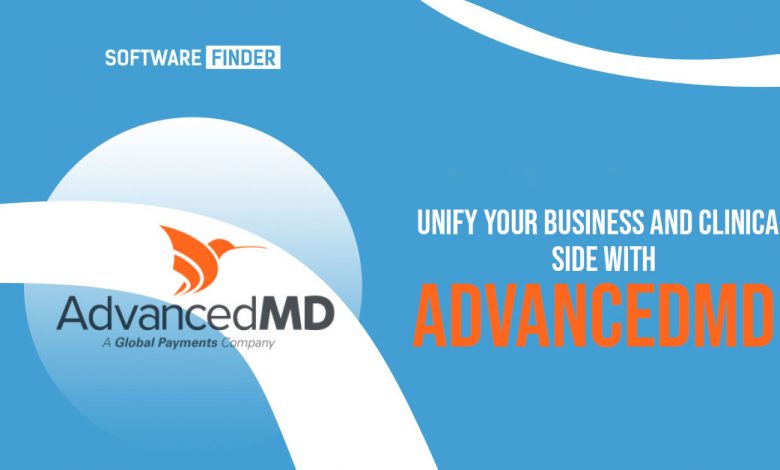 Health practitioners provide their expertise and services in a variety of ways. Patients might seek aid from hospitals, departments, clinics, and even volunteer medical camps. Medical facilities have a system in place to monitor and control their patients' Electronic Medical Records (EMR). The patient's diagnosis, treatment, lab procedures, insurance claims, and billing information are all contained in these records. As the number of patients expands over time, the amount of data generated grows dramatically, and it must be managed effectively utilizing software tools. These tools facilitate EMR management system access, maintenance, redundancy, scalability, and security. Furthermore, EMR management systems are modelled after a medical facility's workflows and can be customized accordingly. In addition to EMR, a medical institution needs a comprehensive and powerful Medical Billing Software.
AdvancedMD EHR is a healthcare technology company situated in South Jordan, Utah, that employs around 800 employees. Ambulatory medical practices can use the company's cloud medical office software. AdvancedMD EHR comes integrated with both practice management and medical billing and makes your life easier with a single solution. AdvancedMD EHR integrates all workflows in the billing process and collaborates with insurance claims services as well as credit card services.
Practice management, electronic health records, medical billing, patient interaction tools, telemedicine functionality, patient charts, reputation management, financial analytics, and business intelligence reporting are just a few of the features that combine to automate medical practice activities.
AdvancedMD EHR Features:
AdvancedMD EHR is a cloud-based practice management software created by AdvancedMD EHR, Inc. It offers a wide range of practice management functions as well as business analytics to aid decision-making. These are some of the following features of the products:
Clinical Workflow Management:
As a practice management solution, AdvancedMD EMR is created and built exclusively for clinics and medical centers. Patient enrollment, appointment booking, appointment scheduling, clash detection and resolution, therapy, lab operations, and payment are all handled by this product. Credit card firms and medical insurance providers are both integrated within the product.
Telemedicine and Telehealth:
AdvancedMD EHR activates telemedicine support that allows you to reach your patients remotely and follow their health and treatment plans right down to the core.
Smart Dashboard:
AdvancedMD EHR includes a smart EMR dashboard that displays all the data in a visually appealing manner. To make reading easier, the data is combined and displayed in a single location. With the EMR system dashboard from AdvancedMD EHR electronic medical record software, you can see outstanding chores in real time, as well as urgent and essential issues. There are three main sections in the smart dashboard:
A single-column schedule snapshot that gives you access to all of your common tasks. Patients can be checked in and out, charges can be captured, no-shows can be marked, and rooming can be managed.
Drill-down donuts are a daily chore that is prioritized. These interactive, visual graphs let you finish tasks faster and with fewer clicks. They also show alarms for key situations, such as aberrant test findings, which can help doctors prevent mistakes.
The majority of the screen is devoted to assisting in the completion of tasks swiftly. Items are visibly shown and prioritized in a similar "in-box" form as donuts are picked – such as labs, refills, outstanding notes, charge slips, or communications.
Medical Billing Software:
AdvancedMD is a comprehensive practice management and medical billing software that can be customized to meet the needs of any private practice or billing service. It comes with all the tools you'll need to make billing and practice management easier, more intuitive, and more productive.
It provides a centralized platform for managing the complete claims process, from charge capture to final reimbursement, in one place. There's no need to upload claims or download remittances anymore. With its integrated clearinghouse, you'll save time and effort. Online patient payment systems can assist your practice convert uncollected patient payments and minimize days in collections.
AdvancedMD EHR enables medical billing that is centralized and high-performing. Within a single database and login, you can handle billing for each provider and location. A Claim Inspector scrubs your claims for CCI, HIPAA, and LCD problems automatically, resulting in a nearly 100 percent first-pass claim acceptance rate. Before appointments, check patient insurance eligibility in bulk or execute on-demand checks are provided with a single click.
AdvancedMD EHR is a complete Medical Billing Software that connects with our credit card processing, allowing you to post charges automatically with only a swipe. It's as simple as reviewing and clicking to confirm. AdvancedMD EHR features less equipment and more flexibility. Medical billing hosted in the cloud keeps your data safe and saves you money on equipment and IT.
AdvancedMD billing software integrates with your scheduling and front office tools, allowing you to collect payments with a single click of a button that displays patient information, copays, and eligibility.
Check out the best EHR systems and see which one best fits your practice.
AdvancedMD Pricing and Advanced Demo:
AdvancedMD charges $429 per provider per month for standalone medical practice management software (without the EMR system). AdnavedMD EHR provides a live demo that shows how the workflows are automated and easily managed. This also shows analytics so that you can see how your business grows with this software.
AdvancedMD EHR Reviews:
AdvancedMD is a software suite for mental health, physical therapy, and medical healthcare institutions, as well as independent physician practices. Practice management, electronic health records, medical billing, patient interaction tools, telemedicine functionality, patient charts, reputation management, financial analytics, and business intelligence reporting are just a few of the features that combine to automate medical practice activities.
Charting and prescriptions can be done from a single location with a physician dashboard. Charge capture happens automatically during the charting process, eliminating the need for billing employees to copy and paste.
Remote access and the greatest levels of data protection are provided by AdvancedMD's cloud platform. AdvancedMD is a browser-agnostic app for Mac and Windows operating systems, as well as an iOS and Android app for any mobile device.
Our Take on This Matter:
AdvancedMD EHR is powerful practice management, EMR, EHR, and medical billing software, it is cloud based and comes with an easy-to-use interface, making your life easier and business stronger.
Also, read about: Azalea Health and Its Features!