Tech
How is VPS Hosting India better than Shared Hosting for eCommerce Businesses?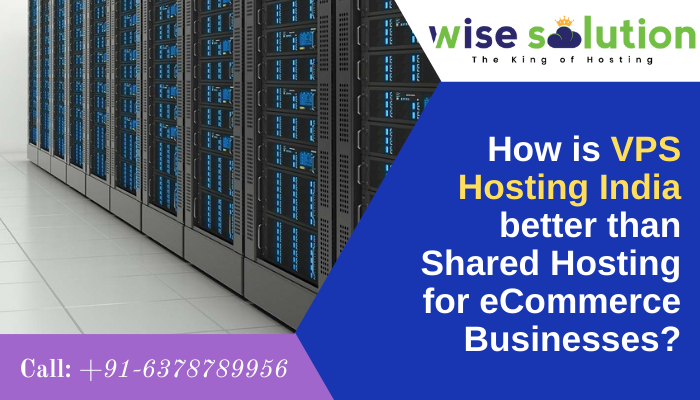 Introduction
One must never take the decision of picking the right server for hosting their e-commerce business lightly. Web hosting possesses the power to degrade as well as provide height to your online business. Most companies or enterprises initially pick the shared server hosting due to its low cost and less need for flexible resources.
Suppose your e-commerce is all set to stretch a higher level of growth. How do you get to know whether to switch your hosting server or not if you are already hosting it on a shared server? Here you will acquire the answer to this question. Further, you will also apprehend how switching to the VPS hosting India from the shared server hosting is highly beneficial for your e-commerce business. So, let's begin finding out!
Drawbacks of Shared Hosting
The shared server hosting causes you to share the server space as well as its resources with hundreds or more users to host your e-commerce business. Your business website might survive perfectly during the initial stage of eCommerce development. However, here are the most compelling reasons why shared server hosting becomes a huge obstacle later in the advancement of your web business.
Shared resources
When you share resources, the other users can take the maximum of them under traffic peaks. That implies your business website needs to wait for the usage of resources. Consequently, it affects the website's performance and can often lead to frequent downtimes.
Limitation on the usage of resources
Since you get the limit of the usage of resources, you get deprived of the right to run multiple or heavy-resource web applications on the shared server. Moreover, it becomes difficult to maintain the highest uptime and high loading speed of your site during the increase in the volume of your website traffic.
Least control over the server
You have the least control over the shared server. You need to go with the same operating system that your hosting provider runs. Thus, you cannot run applications that are not supported by the respective OS. You also cannot modify the settings of the server after a certain limit. The shared server hosting offers less flexibility as well as scalability while hosting your e-commerce business.
Security issues
Since your website is under the shared hosting environment, it is likely to get affected by the operations of neighboring websites. Anything that happens wrong with the server or another website can shut down the functioning of your e-commerce website as well.
So, when your e-commerce business is at its growing stage, you must understand that these drawbacks of a shared server cannot be taken for granted. Plunge into the following sections to know how VPS hosting India discards all these limitations and serves as the perfect solution for your web business.
VPS India: Best for eCommerce platforms
VPS hosting India comprises a shared server that gets partitioned into multiple virtual private servers. It is done through virtualization software. You get one of these VPS India with the required number or amount of web resources such as bandwidth, RAM, disk space, etc. Unlike shared server hosting, these resources solely function for your business website. Moreover, you get root control over your virtual private server, and thus, you can run it in the desired way. Check out the further benefits of the VPS hosting India!
Benefits of VPS Server India
Scalability
You can scale up your dedicated resources as per the growth of your eCommerce business. You do not have to limit yourself while utilizing the resources.
High Security
The VPS hosting India renders the independent as well as private environment to host your online business. No neighbor website's functioning or fault can affect your hosting platform or your website's working. You can also execute security measures to ensure the protection of your data from your end.
Customization flexibility
Since you obtain the root access of your server, you get the privilege to configure your server settings. You can add, modify, or discard applications, OS, and programs as per the requirement of your e-commerce business.
Dedicated IP address
Your e-commerce website acquired the dedicated IP address with the VPS hosting India. The dedicated IP address helps your online business establish its distinct identity and achieve the best possible rank on the search engines.
Wisesolution VPS India: Best choice for eCommerce
Make sure that you find the right VPS hosting provider who can accommodate your e-commerce current and future requirements. To make your hunt easier, let us mention here one of the industry-leading hosting companies – Wise Solution.
The Wise Solution falls in the category of top-notch organizations of the corporate world. It is best known for providing the best hosting in India plans at the cheapest rates possible. You will have the following privileges with every VPS hosting plan of the company –
24/7/365 instant professional support via various communication mediums
Advanced security measures incorporating SSL security, DDoS protection, data encryption, antiviruses, and inbuilt security software
Data backup features
Robust hardware specifications and stable network connectivity through optic fiber cables
100% Uptime guarantee with unlimited bandwidth and much more.
Summing Up
With the Wise Solution VPS hosting India, you can provide twenty times faster speed, optimized performance, and enhanced security to your E-commerce business. It gives a great solution for those who do not want to switch to dedicated server hosting due to budget constraints. For any query or doubt regarding VPS hosting in India, directly connect now to the company's customer support. The company's information website can also serve you the detailed guide for its VPS hosting facilities – https://www.wisesolution.in/vps-hosting-india.
Recommended: Pay Per Click Marketing and Monitoring