travel
10 Best Food Markets In Glasgow, UK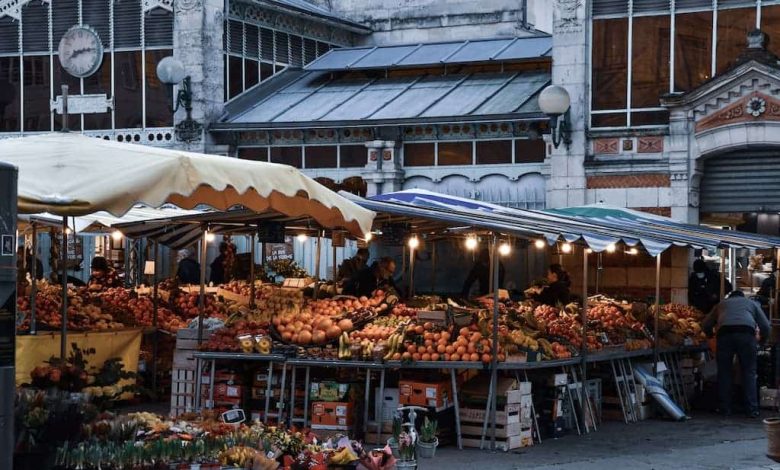 The Scottish city of Glasgow offers a balanced lifestyle. While there is fast growth in the finance and business sector, it also cherishes the party vibe. And talking of fun gatherings, good food is always a must-have which Glasgow has in abundance. The city celebrates food in all its varieties, besides honoring classic Scottish dishes.
Serviced apartments offer a comfortable and convenient alternative to traditional hotel rooms, especially for travelers seeking extended stays. Glasgow is a bustling city with much to offer, and serviced apartments are no exception. These apartments are fully furnished with amenities like a fully equipped kitchen, a private bathroom, and housekeeping services. In addition, serviced apartments provide a homely atmosphere that can be ideal for those who want to stay for an extended period of time. With so many food markets and attractions to visit in Glasgow, booking a serviced apartment in Glasgow can be the perfect accommodation choice for travelers.
Here are the 10 best food markets in Glasgow to visit for the best culinary experience of your life.
The Dockyard Social
Whether you want to throw a birthday bash or plan a date night, the Dockyard Social can be the perfect food outing. Housed in a converted warehouse, there's enough space. So large groups can sit together and socialize. While the DJ takes the surrounding mood higher by a few notches.
As for the food quality, it is well worth every penny. Some recommended items include chicken strips, waffle fries, and pulled pork tacos. The place also has themed bars and sells diverse drinks from cocktails to whiskeys. A handful of them is served complimentary too.
Big Feed
Located on Govan Road, Big Feed is a well-planned and affordable food market in Glasgow. It offers a good mix of sweet and savory delicacies in an authentic and rustic setup. You will find diverse street flavors as well as global-inspired dishes in generous portions. Savoring Cajun fries and Salt and Chilli is a must though. The ambiance is equally vibrant. There's live music, bright lights, and plenty of indoor and outdoor seating arrangements. Visit only on weekends as it is closed on weekdays.
Babylon Supermarket
This supermarket ranks among the best when it comes to fresh international foods. It mostly specializes in ingredients for West Asian and South Asian cuisines. But you get many universal components too. They also keep the most amazing collection of nuts, feta cheese, and spices. Fresh halal meats are available as well.
The market is open every day from 9 AM to 8 PM. Besides in-store shopping, you may also opt for home delivery and in-store pickups.
The Forge Market
Situated on Duke Street, the Forge Market is one of the best indoor markets in Glasgow. It is ever-lively with around 180 stalls and a lot of amusing activities going on under the same roof. For hungry souls, there is a two-level cafe. They present you with varied food choices. Chinese and seafood delicacies, burgers, and coffee, to name a few. The Forge market is open from Thursday to Sunday from 10 AM to 5 PM.
Glasgow Fish Plaice: Saltmarket
Glasgow Fish Plaice: Saltmarket is one of the best fresh food markets in Glasgow. It is a favorite spot for seafood lovers. And provides a wide variety of the freshest fishes from the undersea world. They also keep game and poultry along with specialty options like Arran cheese, salmon fishcakes, and Squid Ink. The rates are competitive and are justified with top quality.
The market is well-run and has friendly, and knowledgeable staff. If you want to visit it after office hours, do it on Thursdays and Fridays. They also deliver food to your doorstep In case you want that convenience on your trip.
Queen's Park Farmers Market
This market is run by the Glasgow City Council and happens on the 1st and 3rd Saturday of every month. It sees over 25 diverse farmers and food producers coming together. They bring garden-fresh fruits and vegetables and sell them at affordable rates. Be it the lush greenery of the park or the overall humbleness, the market calls for a fun family occasion. Then there's soulful Scottish music tingling your senses too.
Govan Saturday Market
Govan Saturday Market is another perfect opportunity to help native farmers and small food businesses grow. All while enjoying a high quality of fresh and seasonal goodies. The event also offers scope to learn about the food culture of the locals and varied cuisines in general. They also arrange for clothing stalls. Govan Saturday Market, as understood from the name itself, operates on Saturdays from 10 AM to 3 PM.
Super Market Glasgow Head Office
Looking for a venue where you can relish good food after shopping your heart out? Then the Super Market Glasgow Head Office is the one for you. It is situated on George Square and takes 4 minutes on foot from the Gallery of Modern Art.
The food section ranges from 15 to 80 stalls and consists of diverse street food traders. But don't miss out on coffee during your visit. The market has the reputation of offering the best Scottish coffee. As for other stores, you will get great clothing, jewelry, and homeware options.
City Property Markets
Being the sole inland fish market in Scotland, the City Property market caters to the freshly-caught fish demands of many. The customer base is huge. It ranges from complexes in Blockchain Road to the West Central locales in the country. Besides fish, the market also boasts a vast array of nutritious fruits and vegetables. The rates are also very reasonable. And if you are good at bargaining, you are likely to make even more profit.
The Glasgow Vegan Markets
Rounding the list of best food markets in Glasgow is the Glasgow Vegans Market. It is the only market in the city with regular vegan offerings. It is held at Drygate Brewery in the East End of Glasgow. The stalls present you with several vegan dishes, sweet treats, and many more. And guess what, you also get to enjoy Drygate's very own range of beers.
Being a wheel-chair accessible venue, feel free to take your family; your pets included.
In conclusion, Glasgow is a city that offers a diverse and vibrant culinary scene, and the above-mentioned food markets offer an opportunity to explore and indulge in it. From the Dockyard Social and Big Feed, which offer delicious and affordable street food, to Babylon Supermarket, which has an extensive selection of fresh international foods, there is something for every taste and budget. Whether it is fresh seafood from Glasgow Fish Plaice or garden-fresh produce from the Queen's Park Farmers Market, there is a wide range of options to choose from. Therefore, serviced accommodation can be an excellent option for food lovers who want to explore the city's food markets and have easy access to a kitchen to cook and enjoy the fresh produce.