Health
DrChrono vs. Intergy EHR Software: All You Need to Know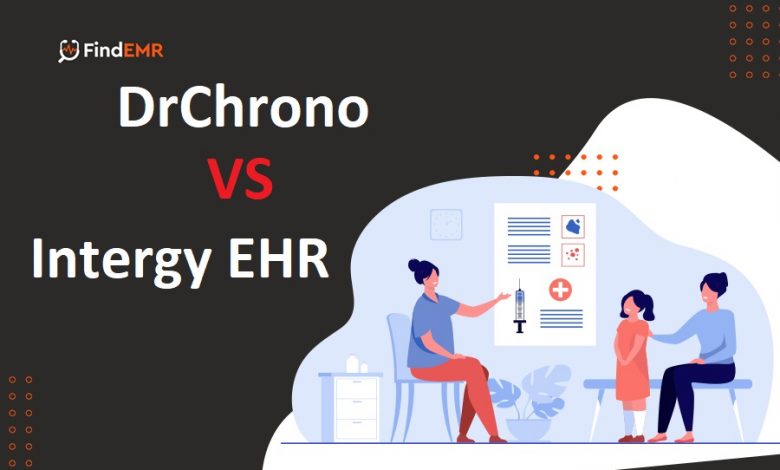 Electronic medical records (EMR) software help streamline both administrative and clinical operations of a healthcare facility. These technology-driven tools are essential for managing a modern practice, but the crowded market makes it challenging for users to find the best fit for their business. Most healthcare providers look for a software that won't disrupt their workflow, but rather support it in a more efficient manner. They already have a lot on their plate, so the best EMR solution for them should strike a perfect balance between being user-friendly and comprehensive.
DrChrono EHR and Intergy are two robust EMR software products that have been leading the way in this space. They boast extensive capabilities and are used by providers all around the globe. On the surface, they both look pretty similar as well. However, they each serve specific use cases and have unique strengths and weaknesses.
Here we'll take an in-depth look at DrChrono vs. Intergy EHR and compare their features, cost structures, and overall design side by side. You can use this information to choose the medical software that works best for your healthcare facility. Ready? Let's get into it.
DrChrono vs. Intergy EHR: An Overview
DrChrono offers a highly integrated EHR solution for healthcare organizations ranging from smaller medical facilities to larger hospitals and enterprises. This all-inclusive EHR platform empowers teams to make care more personalized, informed, and interactive. It provides practice management, telehealth, revenue cycle, and medical billing solutions for both patients and providers. Healthcare practices can rely on it to manage every aspect of their business, from managing patient intake to streamlining day-to-day tasks and focusing on quality healthcare. DrChrono reviews also confirm that it is fully extensible via marketplace of services and applications. In addition to this, the software delivers charting shortcuts and medical forms tailored for more than 20 medical specialties to provide a hassle-free experience for users using iPads, iPhones, or desktop.
Intergy by Greenway Health is an easy-to-use, flexible medical software solution for ambulatory health practices of all sizes. The software enables healthcare facilities to grow with a personalized experience, simple reporting modules, and fully-integrated medical billing tools. This user-friendly solution helps users improve quality of care and gives them several options to achieve their goals as a practice. Designed to be a highly flexible system, Intergy supports varying provider workflows and allows providers to navigate the software in multiple ways. It is lauded for its high degree of customization as users can achieve tasks through various methods and decide for themselves how they want to manage their workflows and navigate the software.
A Comparison of Features
DrChrono and Intergy EHR are two widely used medical software platforms that offer advanced tools to help practitioners improve the quality of care and optimize workflow efficiency. However, there are a few distinct differences in their features which you should consider before choosing a solution that will become your go-to tool. Let's get into them now!
DrChrono EHR Reviews & Salient Features
DrChrono reviews vouch for the fact that it comes with a powerful suite of features for improved care delivery, workflow automation, and medical billing:
Appointment Scheduling: This medical software solution offers a comprehensive appointment scheduling tool that takes a lot of burden off the front desk staff and allows patients to schedule their own visits. It also supports automated appointment reminders to help providers reduce no-shows.
Customizable Charting: DrChrono EHR comes with custom medical forms and templates that vary by appointment type. It also allows you to free-draw over patient diagnostic images on an iPad. Book a DrChrono software demo to try out this functionality in real-time.
Reporting Suite: It offers highly filterable and customizable reports to let you identify trends in your billing operations and overall financial performance.
Patient Portal: The software enables patients to participate more actively throughout their care process. They can use DrChrono OnPatient portal to communicate with their providers around the clock.
Medical Billing: DrChrono features an extensive range of medical billing and RCM tools. Practices can manage their finances by reducing multiple data entries, verifying insurance at the point of care, and billing directly.
Intergy EHR Reviews & Salient Features
According to Intergy EHR reviews, this medical software offers a robust feature set to improve patient care and the operational health of practices:
Patient Engagement: The software facilitates secure communication between patients and physicians through its patient engagement tools. It allows providers to send out real-time messages and reminders, while patients can view lab results, request prescription refills, and get follow-up notifications.
Practice Analytics: Intergy by Greenway Health offers dashboards to let providers track value-based care performance and highlight gaps in care based on lab results, risk levels, diagnoses, visits, and vitals.
Reporting: Intergy EHR reviews confirm that the software provides over five hundred real-time reports that can be used to track financial performance. Users can also export these reports to Microsoft Excel.
Patient Scheduling: Intergy's appointment scheduling tool works like a calendar and allows users to schedule and reschedule appointments in just a few clicks. The scheduling feature also supports various tasks like appointment check-in, patient registration, and billing. Book an Intergy EHR demo to learn more about this functionality.
Billing: Greenway Health offers a comprehensive suite of billing tools that allows users to improve their practice's financial performance by running patient insurance eligibility verification checks at the point of care.
Pricing Comparison
DrChrono pricing plans start at $200 per provider per month. The vendor offers flexible pricing plans to cater users with different needs and budgets.
The details for Intergy EMR pricing are not disclosed publicly. You have to contact the vendor to obtain their cost plans.
Bottom Line
Finding the right electronic medical records software for your specific practice needs is no easy feat. The "best" solution will be the one that will align seamlessly with your practice needs. DrChrono and Intergy are two exceptionally great EHR software applications available on the market. They both offer robust features for patient scheduling, billing, workflow automation, and improved care delivery. You know the specific requirements of your healthcare business, and that will be all you need to make a wise decision on DrChrono vs. Intergy EHR. However, we highly recommend that you read through multiple user reviews and book product demos before finalizing any option.