Tech
6 Best Paraphrasing Tools That You Can Find Online in 2021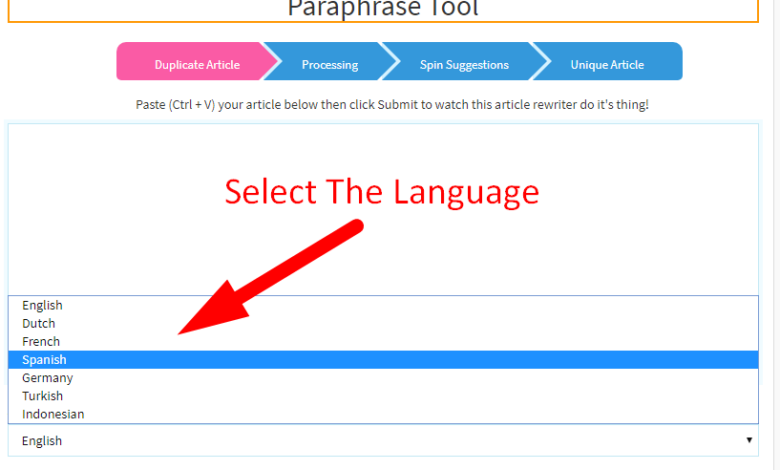 What does paraphrasing mean?
Well, Wikipedia suggests that paraphrasing is a restatement of the meaning of a text or passage using a different set of words.
I'm sure you already know that. But why would a person need to paraphrase a certain piece of text?
If you are a student, a blogger or a research scholar, you may find it easier to paraphrase one of your previous work than creating a similar piece of work from scratch.
This is why the demand for online paraphrasing tool has increased significantly in the past few years.
If you have been looking for the best tools for paraphrasing, your search ends here. In this blog, we will talk about the top 6 paraphrasing tools available on the internet.
Spin Rewriter: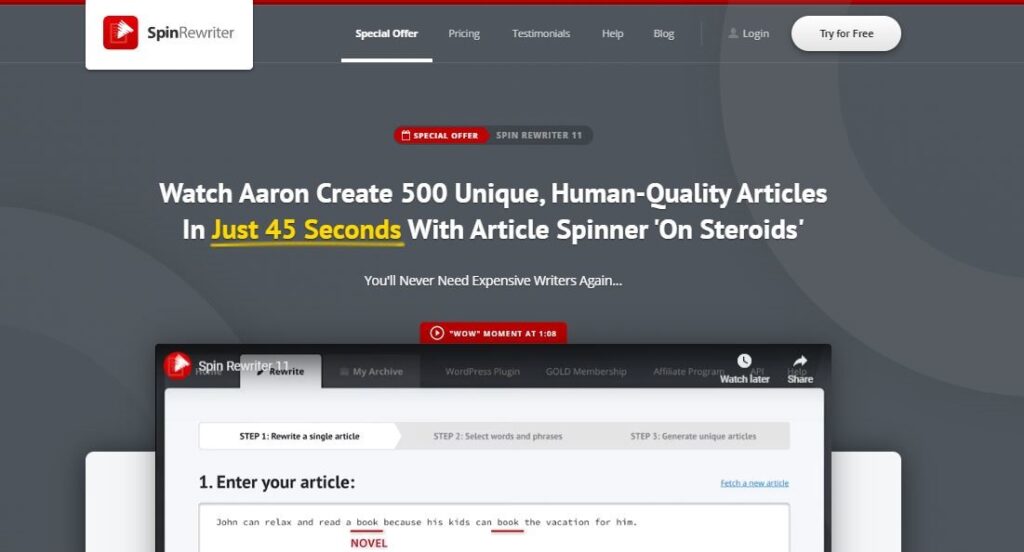 This tool has been in the business since 2011, making it one of the oldest running online paraphrasing tools in this list. It is available in the form of software, and it is recently released its 11th version. Needless to say, the latest version offers better features and paraphrasing efficiency. Moreover, the software is infused with Emulated Natural Learning (ENL) technology which helps create content like a human.
Here are a few major highlights of this tool:
Thanks to ENL technology, the tool can understand the original content's context and meaning before paraphrasing it.
The tool can paraphrase up to 1,000 articles at one go.
Use the bulk paraphrasing tool to paraphrase multiple articles at once.
The tool also has the feature of stock photo integration, allowing bloggers to add relevant images in the content automatically.
This amazing tool comes with different subscription packages. The monthly package costs $47 per month, while the annual package costs $77 per year. You can also get a lifetime subscription at a one-time payment of $497.
The Best Spinner 4: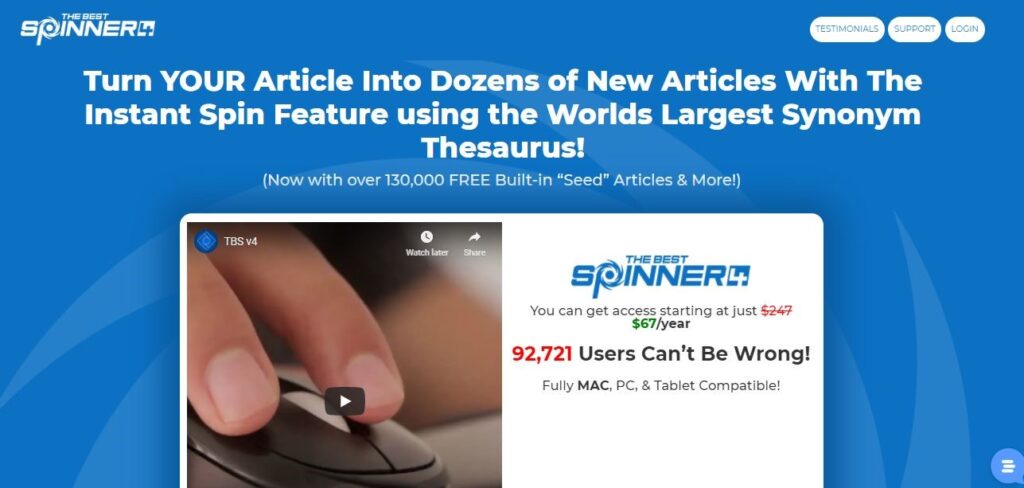 This tool lives up to its name. As the name suggests, we are talking about the 4th and the latest version of the tool. It is now more refined and improved than its previous versions in terms of paraphrasing capabilities. Here are a few reasons why you should give this tool a try:
It can paraphrase and translate your content into 14 different languages.
It even has a built-in Thesaurus, helping the tool keep the content's meaning intact while using rich vocabulary for spinning it.
If you are a blogger, you can directly publish the paraphrased content on your WordPress blog from the tool.
It can also generate 100 paraphrased versions of the original content.
The Best Spinner tool is available in three versions. The basic version costs $67 per year. The standard version, which is the most popular among the three, costs $127 per year. And the pro version costs 297 per year. Every version has a specific monthly credit limit.
QuillBot: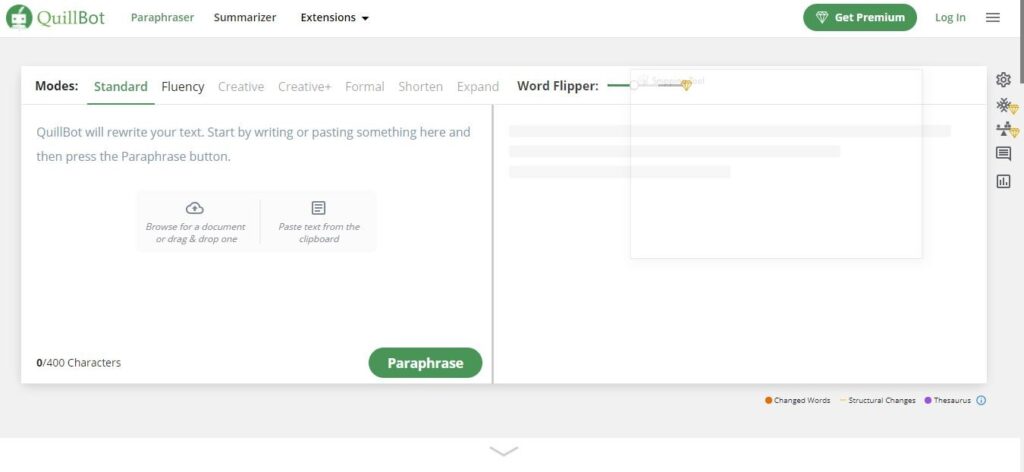 QuillBot is more suited for students and research scholars. Its paraphrasing process is powered by artificial intelligence. This feature also ensures that you can paraphrase your content on the sentence or paragraph level. It even contains a paraphraser and summariser. Moreover, you get to enjoy the following features with this paraphrasing tool:
You can choose from five different paraphrasing models depending on your need.
With the Word Flipper feature, you can customise the amount of word you want to be changed in the paraphrased text.
The tool also comes with a Google Chrome extension.
You can easily integrate QuillBot into your Google Docs and Microsoft Word, allowing you to paraphrase right in your original content.
Interestingly, QuillBot is a free paraphrasing tool. However, you get a limited usage with the free version. There are a few premium versions that you can subscribe to. The monthly pack costs $4.95 per month, the semi-annual pack costs $4.15 per months, and the annual pack costs $3.33 per month.
WordAi: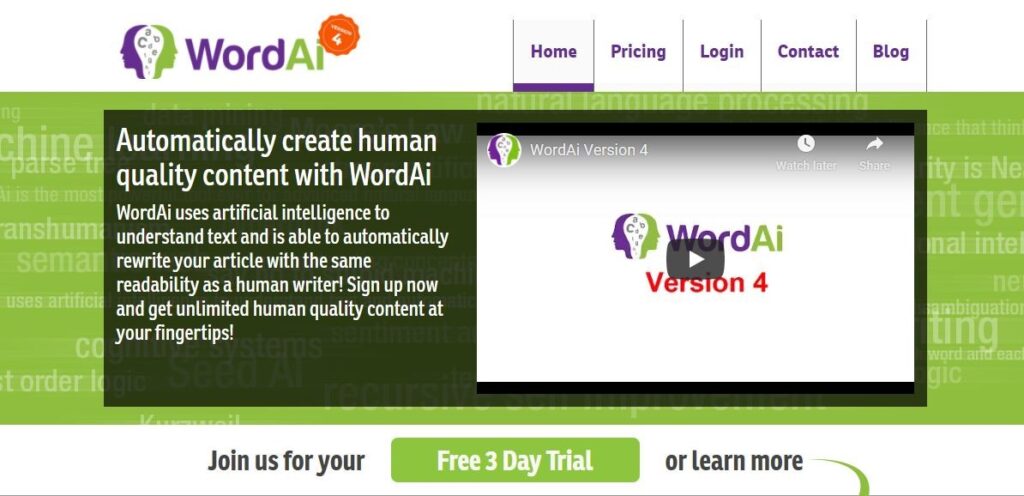 This is another online paraphrasing tool which is quite popular among students, bloggers and SEO professionals. The built-in artificial intelligence in this tool allows the tool first to understand the context of the original text and then paraphrase it in a way that seems like a person has written it. Here are some major highlights of this tool:
The tool supports several languages, including English, Spanish, French, and Italian.
The tool can also paraphrase up to 1,000 articles with a single upload.
If you do not have any content to paraphrase, you can connect your Article Forge account to generate content as per your need.
The tool seamlessly integrates with the Perfect Tense tool to find spelling errors and check grammar like a proper grammar checker tool.
The tool is available in two subscription plans. The monthly Turing plan costs $49.95 per month, and the Turing yearly plan costs $347 per year.
Paraphrasing Tool by MyAssignmenthelp.com: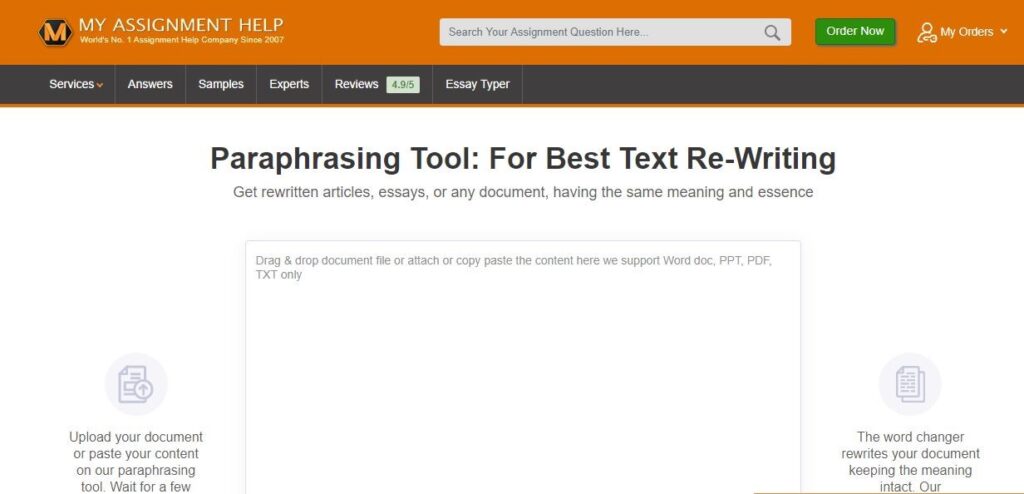 If you are a student, you must be familiar with the name MyAssignmenthelp.com. This academic writing company has earned a significant amount of popularity among the students with its writing services. However, you can also find several academic tools on this platform, and the Paraphrasing Tool is one such tool worth mentioning. This tool offers the following features:
It comes with an easy-to-use user interface.
The tool potentially improves the quality of the content through paraphrasing.
It eliminates the traces of plagiarism from the content.
The tool is available for free of cost, and it is ad-free.
As mentioned, the tool does not charge you anything for its paraphrasing services. It also has a 24×7 active customer support team to assist you with your queries and requests.
Chimp Rewriter: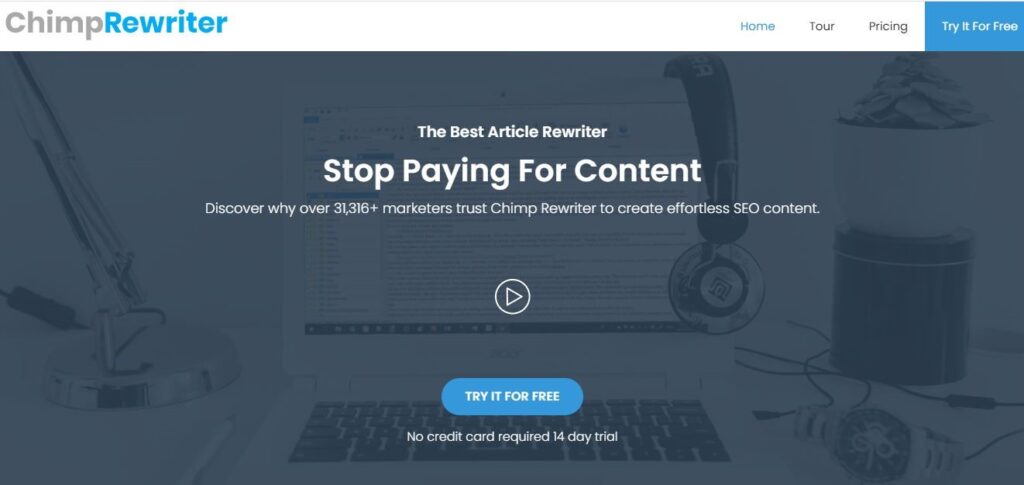 This is again paraphrasing software which is quite useful in developing SEO-worthy content. The best part about the tool is that it uses a mix of artificial intelligence and Natural Language Processing (NLP) to rephrase the content. In fact, the paraphrased content that you get from this tool is often better than an average writer. With this tool, you get to enjoy these following features:
This tool offers you the flexibility to paraphrase the content in different languages.
The tool uses the same algorithm that search engines like Google uses to identify duplicate content. In other words, this tool passes the plagiarism test and offer content that cannot be traced as a duplicate content.
Thanks to its extensive API, the software can be easily integrated with third-party applications.

Read More: Basic Steps for Fashion Designer Course for freshers
The tool is available in two different subscription packages. The monthly pack costs $15 per month for 2 device licenses, while the annual pack costs $99 per year for 2 device licenses.
In conclusion,
You can find many more than just these six paraphrasing tools on the internet. However, if you are looking for the best, you will have to get back to the ones listed in this blog. Since these tools have a different set of features, it is advised to check these tools individually in your leisure and then choose the one that fits your requirements the best.