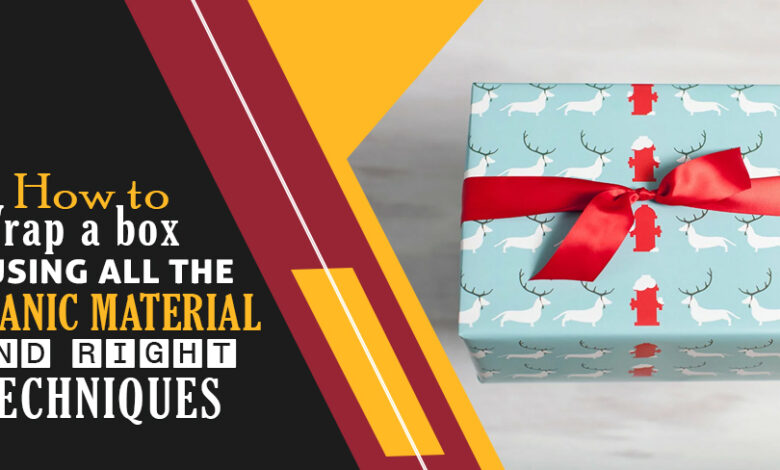 Wrapping gift packages has been a massive trend in every world for years. Paper of different types has been utilized for this purpose. People can get paper materials made from cardboard, Kraft, and corrugated and use them to enhance their packaging with unique wrapping ideas. There are complete tutorials on different social media platforms if you search the wrap boxes on them. On several occasions like Christmas, Thanksgiving, or New Year Eve, people like to give their family members and friends gifts. The use of wrapping paper allows people to add curiosity and suspense in their gift-giving process to their loved ones. You can make an old-looking box with ordinary shape or design, a remarkable one with amazing printed papers of engaging color schemes. People can use their creativity while wrapping packages because of the flexible nature of paper.
How to the custom boxes is a question many people put on different online video platforms to find new ways to pack their gift items. On various events and occasions, sales of gift items increased a lot because these products express love to each other. However, most people prefer wrapping their packages on their own. It lets them showcase their creativity and make their friends feel special by showing their efforts. If you want to cover your packaging perfectly with organic or homemade materials, here is a complete guide for you.
Selection of materials:
The selection of materials to enhance your wrap boxes is the first and easiest step to take:
Get a gift box made from cardboard or Kraft material. Make sure that the box is according to the size of your item.
Consider a high-quality wrapping paper that you can find from any store or even your house if you are making the formality. If you want your box to look fabulous, get your wrapping paper from a reliable source and in different color and design options.
Collect bone folders, glue, tape, and craft scissors.
You can also collect toppings or extra add-ons to enhance the box in perfect ways.
Positioning:
When you are making wrap box packaging for your valuable gift items, positioning is the step that matters:
Place the wrapping paper straight on an entire regular surface.
Measure the dimensions of the box and measure the dimensions of the paper you are using for wrapping.
Place the box right in the middle of the paper to provide equal spaces to every side and top lid of the box.
Make sure to do your measurements accurately. Do not worry about getting extra wrapping paper than the size of the box, as you can always cut the extra sheet. However, make sure to prefer placing the box where every side of the paper is accurately connected once you wrap the box.
Setting creases:
Whether getting wrap boxes wholesale or wrapping your packaging by yourself, setting creases is the step you have to make accurately. Start this process from one side of the box. First, keep the paper up and place it ideally on the side of the packaging. Next, make sure to press the paper's surface perfectly against the sides of the box. Make creases once you end up doing any side as it will help you remember where to fold the paper. Once you make the crease of one side, make sure to do it perfectly for every side of the box. You can even utilize a measurement footer to make accurate creases for this purpose.
Taping or gluing:
Once you have made all the accurate positioning and creases of your wrapping paper, now it is time to place or paste it on the surface of the box to complete the wrap my box process. For this purpose, both tapes and glues can utilize. If you want to keep your bin clean once you have done wrapping the packaging, make use of glue. You can place the glue on your wrapping paper and paste it on the surface of the box accurately. But you can utilize the glue only once, so you need to be clean and accurate. However, taping is not a bad option, allowing users to open the wrapping and get the gift quickly.
Adding embellishments:
After you have applied the wrapping paper on the box's surface perfectly, now it is on you how you want to improve the box's appearance. Embellishments are great ways to make the gift packaging more attractive and unique. Various things come in embellishments. For instance, there are ribbons, cards, tags, labels, paper flowers, lids, and glowing tapes. You can find various ideas on YouTube to utilize those add-ons perfectly on the surface of your gift package. Make sure to use the one similar to the product you have placed inside the box before wrapping.
Making it unique:
It is in your hand how you want to enhance your gift packaging once you have applied wrapping paper on it. There are numerous customization options available that can help you make your packaging look distinctive. For example, you can go with finishing techniques such as velvet lamination and smudge-free lamination to enhance the functionality and appearance of the packaging. You can even utilize printed papers for wrapping purposes on which you have displayed attractive themes, published fonts, and engaging color schemes. The customization options for writing and custom packages are easy to find and afford.
These steps will help you all wrap my box problems efficiently. The only essential element here is utilizing your creativity and getting desired results. Wrapping gifts and packages are not going anywhere any sooner. Following trends and finding new ideas and ways to wrap your packages are appealing and inspiring manners. Plus, getting all materials and solutions to enhance boxes is not that hard and pricy.